Description of the Standard
The standard SGI 20.10, Equal Opportunities Management System, establishes the requirements for a management system for equal opportunities in the workplace. Its main objective is to allow a company to organise, manage and control equality between men and women in all the company's fields, improving with its implementation the performance of equality, parity and non-discrimination criteria.
This standard has been developed by Igualia in response to the demand for specific management systems in the field of Equal Opportunities, with the aim of making its monitoring and evaluation easier.
The terminology SGI 20.10 stands for the Spanish abbreviation of "Sistema de Gestión de Igualdad de Oportunidades" (Equal Opportunities Management System, in English). It is the first of its kind and a pioneer in terms of Equality Management Systems for companies worldwide.
This standard was based on years of development and experience of other business management systems; they have as their basis and fundamental support the existing legal regulations, fundamentally the Spanish Organic Law 3/2007 of 22 March, for the effective equality between men and women, which develops the fundamental right of equality enshrined in the Spanish Constitution, just as the regulations of the European Union, which have taken in this universal principle and incorporated it into its legal system, from the Treaty of Rome to the Directives 2002/73/EC and 2004/113/EC.
The standard SGI 20.10 applies to every organisation of any type and size that wishes to:
Establish a management system for eliminating or minimising their organisation's existent or potential inequalities.
Implement, maintain and continuously improve an equality management system.
Ensure its compliance towards an established equality policy.
Prove its compliance with this reference standard by:

Carrying out a self-assessment.
Looking for the stakeholders' (legal representation of workers, administrations, customers, suppliers…) compliance in equality management.
Aiming for the equality management system's certification by an external organisation.

Prove the existence and implementation of the protocols required by legal regulations.
Improve the staff's image and perception of the organisation's degree of awareness.
Advantages of the EQUALITY SGI Seal
Certification of compliance with the regulations on Equal Opportunities.
Revaluation of the corporate image.
Usage of the seal in the company's trade and advertising purposes.
Valuation of the seal for the purpose of grants and competitions.
Prestige of the organisation with its suppliers and clients.
Talent retention.
11 of the Royal Decree-Law 1615/2009: The awarding of the emblem will be compatible with the awarding of other distinctions or prizes granted by different Spanish or foreign public administrations or public bodies attached to or dependent on these administrations, as well as by Spanish or foreign private bodies regarding the achievement of real and effective equality.
STANDARD SGI 20.10 IMAGE
---

EQUAL OPPORTUNITIES SGI SEAL
---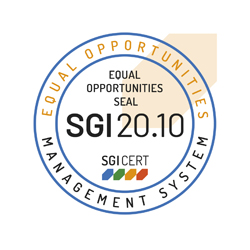 Some News about the Standard SGI 20.10
19 November 2010 - Workplace Positive Action Management: ICAB
http://www.icab.cat/files/242-227270-DOCUMENTO/JORNADA%20IGUALDAD2.pdf
---
02 January 2012 - Agreement to implement the SGI 20.10 in Galicia
https://novaworksthinktank.wordpress.com/2012/01/02/nova-works-consulting-e-igualia-firman-un-convenio-para-la-implantacion-de-la-norma-sgi-2010-de-sistemas-de-igualdad-de-oportunidades-en-galicia/

---
04 January 2016 - The IMAN group receives the Equal Opportunities SGI Seal
https://www.imancorp.es/es/compania/nuestro-compromiso
---
07 March 2018 - Hospital Sagrat Cor receives the Equal Opportunities SGI 20.10 Seal
https://www.hospitalarias.es/hospital-sagrat-cor-obtiene-sello-sgi-2010-igualdad-oportunidades/
---
05 July 2019 - Aguas de Huelva renews the SGI 20.10 Seal
https://huelvaya.es/2019/07/03/aguas-de-huelva-renueva-el-sello-de-igualdad-de-oportunidades/
---
04 March 2020 - The Standard SGI 20.10 in the 1st National Equality Congress
http://www.rrhhdigital.com/secciones/conciliacion-e-igualdad/140266/Caminando-hacia-el-I-Congreso-Nacional-de-Igualdad-de-Oportunidades